Welcome to Bernedoodle 4 You! We have been breeding Bernese Mountain Dogs & Bernefie's for companion and service dogs for the past 7 years. We wanted to add a hypoallergenic puppy/dog to our breeding program so this was a great choice for us. We live in the country and our dogs are a big part of our family.
We have Standard F1 Bernedoodle Puppies Available! Please check out our Puppies page!
If you'd like to see our Bernefie's and more photos please check out www.pupsinmocountry.com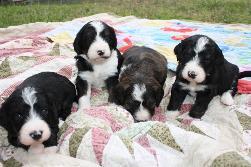 A few of our cute puppies.