Welcome to Bernedoodle 4 You! We have been breeding Bernese Mountain Dogs & Bernefie's for companion and service dogs for the past 8 years. We wanted to add a hypoallergenic puppy/dog to our breeding program so this was a great choice for us. We live in the country and our dogs are a big part of our family.
ANNOUNCEMENT !! Puppies Arrived Jan 5, 2017 - We have puppies available to join you anytime after March 9th.
We're Excited to Announce our litter of F1 Bernedoodles Parents are Leo & Roxy. We do have one female and three male puppies available. Puppies will be ready to join there forever family anytime after March 9th. Shipping is available!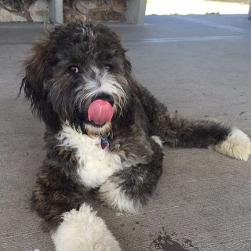 A few of our past Bernedoodle cuties!