Welcome to Bernedoodle 4 You! We have been breeding Bernese Mountain Dogs & Bernefie's for companion and service dogs for the past 8 years. We wanted to add a hypoallergenic puppy/dog to our breeding program so this was a great choice for us. We live in the country and our dogs are a big part of our family.
We are expecting our Fall/Winter litter the first week of November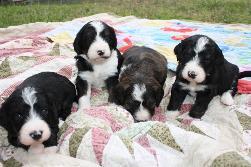 A few of our cute puppies.